UPVC roof lanterns can enhance the look and feel of any room, bringing additional natural light and helping to reduce energy bills. Typically found on orangeries or flat roofs, our roof lanterns offer enhanced views to the outside and easy maintenance. Our UPVC roof lights are all made from high quality materials, with slim sightlines and maximum window space.
They are available in a range of different finishes and glass options to suit every home and provide privacy where needed.
Features
Thermal Efficiency – we all know that heat rises, so our roof lanterns offer superior protection against heat escaping. The double or triple glazing used in the window sections ensure that heat is trapped inside, helping to warm your room and reduce energy bills.
Security – If required, the glass panels within your roof lantern can be frosted. This guarantees your privacy, whilst still allowing plenty of natural light to enter the room. The glass used is also toughened, thereby keeping unwanted intruders out.
Customisable – We have a range of colour and finish options, so you can ensure that your roof lantern suits your home perfectly. Our team will talk you through all the options available and help you choose.
Why UPVC roof lanterns?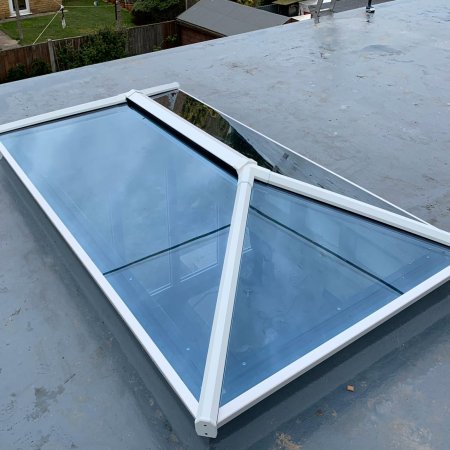 UPVC is an extremely durable material and resistant to rotting, warping and discolouration. It is also cheaper to manufacture than aluminium, therefore UPVC roof lanterns cost less than aluminium versions.
Roof lanterns built with UPVC usually have central rafters made from aluminium, making them extremely rigid and secure. UPVC is also a naturally insulating material, helping to further insulate your home.
How will a UPVC roof light benefit my home?
Installing one of our double or triple glazed UPVC roof lanterns allows you to experience additional natural light, whilst still being protected from harsh weather. Every UPVC roof light has been tested to withstand extreme snow and wind, with airtight seals around all windowpanes.
We know that every home is different, so we tailor make every UPVC roof lantern to suit your exact requirements, ensuring that it will fit perfectly. An automatic or manual roof vent can be added, to allow you to reduce the build up of condensation or regulate room temperature.
What is the difference between a sky light and a roof lantern?
A sky light is a flat window that is set into a roof, as the same angle as the roof. A sky light can be non-opening or can open by means of a centre pivot, or be top-hung.
A roof lantern is fitted to a flat roof and projects above it, usually in the shape of a standard or elongated pyramid. This lets light in from all sides.
How much do roof lanterns cost?
The price you pay for a UPVC roof lantern depends on several factors, including size, shape and style chosen. For an accurate price, please get in touch with us for a free, no obligation quotation.
What should I consider before buying a roof lantern?
Before having a roof lantern installed into your home, there are a number of things we would ask you to consider:
What way does the room face?
If the roof is north facing, a roof lantern will add light to a dark room, whilst a south facing room will be flooded by additional natural light. Consider the size of roof lantern that you need; you may wish for a larger one in a north facing room to capture as much natural light as possible, but a smaller one to avoid too much light and heat in a south facing room.
Remember also that normal glass doesn't block all UV light, and overexposure can be dangerous.
Is the roof strong enough?
Some single storey extensions are built with roofs that are not designed to take the weight of a roof lantern. It may be advisable to seek the advice of structural engineer. If you would like more advice on this, please get in touch with us.
Will I need planning permission for a roof lantern?
Planning regulations state that any alteration should project 'no more than 150mm from the existing roof plan' and 'no alteration should be higher than the highest part of the roof'. On single storey extensions this may mean that the roof lantern projects higher than your neighbour's property, although it will not be higher than the main part of the roof. It is advisable to check with your local Planning Authority to avoid any issues at a later stage.
If you have any questions about UPVC roof lanterns, or you would like a free no-obligation quotation, please do not hesitate to get in touch with us.
We have over 30 years' experience in the window industry and are a family run business offering a professional and personal service. Our aim is to give you a product to suit your budget, without compromising on quality. We guarantee all our UPVC installations for 10 years!