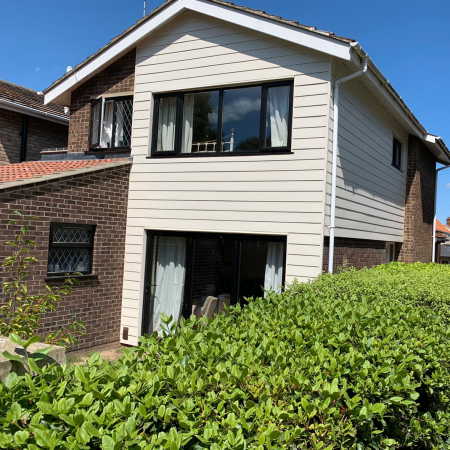 Looking for a local cladding company? Look no further!
We can help transform the look of your home and protect it from all weathers. We use only the highest quality UPVC products with a 10-year installation guarantee and 10-year material guarantee, so you can be sure there will be no discolouring, cracking or warping.
We have over 30 years' experience in the window industry and have fitted cladding solutions to a variety of buildings and homes throughout this time. Based in Suffolk, we cover the whole of Suffolk and Norfolk.
Our cladding services:
UPVC cladding in 6 colours.
Advice to help you choose the right product for your property.
10-year installation guarantee.
20-year materials guarantee.
Can increase the value of your property.
Low maintenance, no painting required.
Seasonal offers available – ask for details.
No upfront payment required.
Weather-resistant, fire tested and low maintenance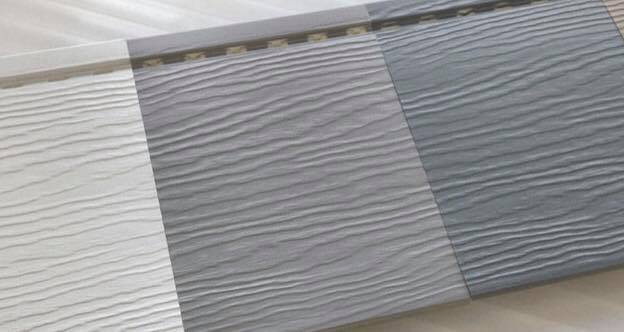 UPVC cladding is a great solution to refresh and enhance the look of your property. It is a low maintenance option that can replace rotten timber, conceal unsightly areas of brickwork, or deliver an attractive new feature to the property.
In addition, the cladding that we install is BBA approved and has been fire tested in the UK to achieve BS EN 13501 standard.
Quality Installation and Aftercare
We will always remove any existing materials or cladding before installation. Fixing new cladding over old wooden boards can cause damp and rot problems at a later date. The new cladding will also have hidden built in ventilation, allowing it to breathe without spoiling the overall look.
Our 10 year installation guarantee means you shouldn't have any problems, but if you do, we will aim to rectify these as quickly as possible and to your complete satisfaction.
Cladding FAQs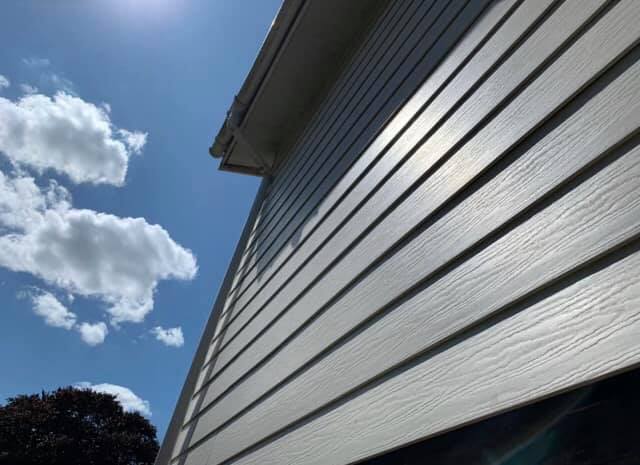 What protection and insulation does UPVC offer?
UPVC stands up to all weathers and will not warp, shrink, swell or rot. It is, therefore, a much lower maintenance option than shiplap or cedar shingles. UPVC isn't itself remarkably insulating, but it does keep masonry walls dry, thereby improving their thermal performance.
What are the physical properties of UPVC?
UPVC technology has significantly improved over the years, and UPVC is now guaranteed for colour fastness for at least 10 years. It is very similar to timber in the fact that it can be sawn, screwed and drilled as required. No special fixings are needed for UPVC cladding, making it simple to install, whilst still giving a high-quality look.
You have the choice of either white or a wood effect surface finish, both are highly durable and not only maintain colour and avoid UV degradation but also saves the job of redecorating, as timber cladding would require.
Does UPVC cladding need any ongoing treatment after installation?
No, not at all! UPVC cladding comes ready from the factory and requires no further treatment or decoration after installation.
What maintenance does UPVC cladding require?
Very little, in fact, it only requires cleaning which can be done with a pressure washer. This will not damage the material or its finish.
How long does UPVC cladding last?
We guarantee our installations for 10 years, but the cladding itself should last much longer. UPVC is also a sustainable material that can be recycled up to 10 times. Timber cladding cannot be reused and goes to landfill at the end of its usable life.
How much does UPVC cladding cost?
Every project is different, making it difficult to give an exact price without carrying out a site visit. For an accurate quote, please contact us. We will provide a quote for free with no obligation.