Beautiful doors from your local Bi-Fold Door Installers
Bring the outside in and open up your home to more light and space with a beautiful set of bi-fold doors. Our local bi-fold door installers offer a full supply and installation service for a range of aluminium bi-fold doors. We are also certified by Assure, an official, UKAS-accredited Competent Persons Scheme authorised by the Ministry of Housing, Communities and Local Government (MHCLG) for the replacement of windows, roof windows, roof lights and doors in England and Wales.
We supply and fit aluminium bifold doors, which are fully guaranteed for ten years and available in many designs and colour options. Doors can be supplied in standard sizes or made to measure.
Our full service includes:
Survey
Delivery
Installation
Aftersales
Aluminium bi-fold doors are the modern alternative to the old-style sliding patio doors, offering a whole new look and way to enjoy your property and outdoor space. As the concertina doors take up very little space, your outdoor and indoor spaces can effectively be merged, creating a space that is suitable for living, working and entertaining.
Our aluminium bifold doors are made from slim 60mm thermally broken profiles that allow maximum glass width with the minimum number of panels. There are no additional mullions (vertical bars) between the panels, giving you even more light and views outside.
Further options include:
Low and weathered thresholds – these give the opportunity to create floor levels that are flush with each other. This is achieved by sinking the threshold into the floor, creating an even outdoor/indoor space
Trickle ventilation – most bifold doors require trickle ventilation to meet building regulations. We can supply and fit a frame extender that conceals the trickle vents and provides a weather bar at the top of the door to provide further weather protection.
Door frames in any RAL colour – alongside our standard colour range, we can also provide folding sliding door frames in over 200 RAL paint colours. In addition, bifold doors can have a dual paint colour finish so that you can have different internal and external colours.
The Benefits of Bi-Fold Doors
The benefits of Bi-Folds doors are obvious in most cases, but here are some benefits you might not have thought of:
Low Maintenance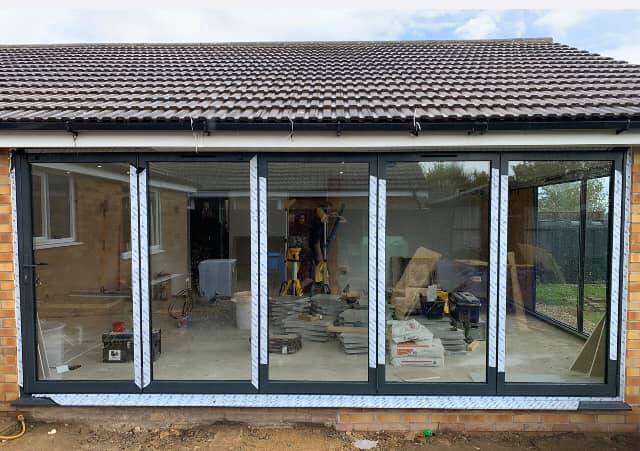 Like most other windows and glass doors, they require cleaning regularly with detergent to ensure they stay looking spotless. But because they are not made up of multiple panes and sections like more traditional windows, they are generally easier to clean.
Security
A greater level of security is offered with bi-fold doors due to multi-point locking systems, internally beaded frames and high-security hinges, whereas other types of glass door tend to have just one locking point.
Flexible
Bi-fold doors allow you to open them to any width within the frame, and you can customise where the individual leaves split.
Take Up Little Space
Unlike patio doors, which must slide behind another window or door, bi-fold doors collapse back on themselves, offering the benefit of opening up your wall completely. Meaning they take up less valuable space and allow a more incredible feeling of openness.
Open In or Out
Your new bifold doors can be specified to stack inwards or outwards, depending on your own requirements.
They Look Great!
Bi-fold doors create a modern look to your home, both inside and outside. There is a whole range of styles and colour to choose from to get the look you want.
Outside Living… Inside…
With bi-fold doors, you don't need to be outside to get that sense of being in your garden. Unlike regular patio doors, they open entirely, opening up the whole side of a room to merge that room with the outdoor space.
Supply only or supply and fit?
A bifold door needs to be installed correctly to ensure that it will work properly for many years. This can be a time-consuming job, and something many builders or DIY people do not like to tackle. However, a poor installation can mean the door needing to be removed entirely, and the installation process started again.
Our installation service ensures that a correct installation as your bi-fold door will be surveyed and fitted by one of our experienced installers. Our knowledge and experience ensure that the door will be installed quickly and efficiently with minimal fuss and disruption to your property.
Also, if you have a problem with your bi-fold door, we are your one point of contact and will sort out the problem as quickly as possible.
How much do bi-fold doors cost?
The cost of bi-fold doors depends on a number of factors, including the style, size and installation required. If you would like a free no-obligation quotation, get in touch with us.
How long does the installation of bi-fold doors take?
On average, each set of bi-fold doors takes 3-4 hours to install. This can vary, depending on the size and type of the doors. We will provide details of installation times within our quotation.
How secure are bifold doors?
All our bifold doors have multi-point locking on the master door and steel locking rods on the intermediate panels. All the security gearing is located within the doors themselves, and we use 3-star diamond rated BSI security cylinders. If you are concerned about security, we would also recommend laminated glass, which is the police preferred option for preventing crime.
How often will I use my bifold doors?
It's a common misconception that bi-folds are only opened on the hottest weather days. If the weather is pleasant and not windy, you'll find that you open your doors for many activities, including a leisurely breakfast, morning coffee, or glass of wine and dinner in the evening. Many of our clients enjoy the alfresco life from February through to October.
Can bi-fold doors be fitted to a conservatory?
In some cases, yes. Please get in touch with us, and we will arrange to survey your conservatory and see if this is possible. We do not charge for this no-obligation service.
What areas do you cover?
Based in Lowestoft, we work across Suffolk and in some parts of Norfolk.