We specialise in gutter installation, replacement and repair services for domestic and commercial properties across Suffolk and Norfolk. If you are looking for durable guttering to protect your property from harsh weather, get in touch with us today.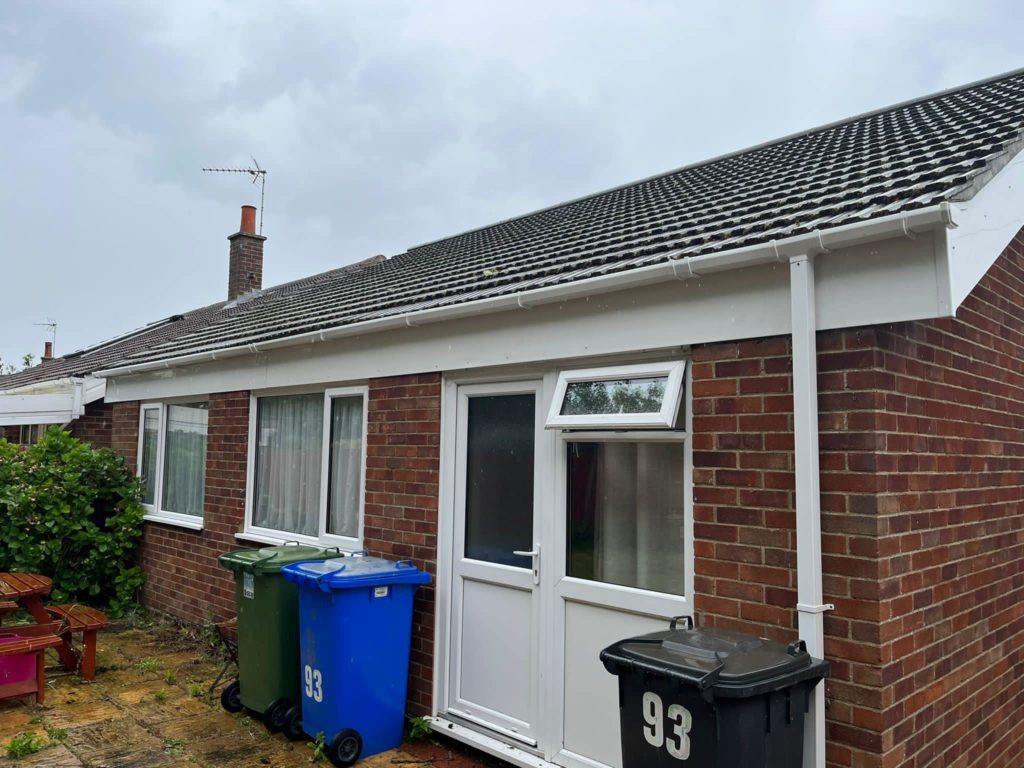 What do gutters do?
Gutters collect rain and direct it to drain through a downspout and away from your property. If a gutter is damaged, it can cause water to accumulate, causing leaks and flooding. Unfortunately, a property's guttering is often ignored until a structural problem occurs because of water accumulating in blocked guttering or downpipes. One of the most common causes of isolated dampness in properties is in fact leaking gutters. Not only does dampness look unsightly, but if it penetrates into your home, it will cause staining and eventually black mould will form. This mould is not only damaging to the property structure but can be a health hazard to you and your family.
Residential gutter installation
Carlton UPVC Home Improvements can provide gutter installation and repair services for residential properties across Suffolk, Norfolk and North Essex. We are a family owned business with over 30 years experience in this industry and can install gutters on both new and existing buildings.
Commercial gutter installation
If you're looking for guttering for your commercial building, we can help. Whether the building is new or has existing guttering that requires replacement, we are able to provide a solution that will suit your building and your budget.
Gutter replacement process
We manage the whole gutter installation process, including:
Setting up access equipment to the correct working height.
Removing existing gutters, downpipes and brackets.
Supply and fit new guttering, downpipes and connect to the drains at ground level.
Carry out water tests to ensure guttering has been installed correctly and flows freely.
Remove access equipment and all waste materials.
Provide guarantee/warranty to client.
Types of guttering
The majority of guttering that we install is UPVC. This high quality rainwater system is long lasting, virtually maintenance free and comes in a range of styles:
Squareline Guttering
Half-round Guttering
Universal Plus
Universal XL Guttering
Square Guttering
Round Guttering
Elegance Cast Iron Effect
The benefits of UPVC guttering and roofline products include:
Wide range of colour and finish options.
Low maintenance, no painting or touch ups required.
Long term solution, not prone to warping, rotting or cracking.
Widely available and easy to install.
When planning the guttering system for your building, we will also inspect the other roofline products, such as fascia boards and soffits.
Free Quotation
We welcome you to contact us for a no obligation appointment, where we can show you samples of our UPVC guttering and talk you through the product choices that we offer. Once we have agreed a design and specification of product with you, we will provide you with a free written quotation and timescale for installation.
If you'd like more information or a no obligation quote, get in touch with us today.