UPVC patio doors are a practical, low maintenance choice to allow access to your garden and let more light flood into your home. All of our UPVC sliding doors are made to measure, come in a range of colours and all with a 10 year guarantee.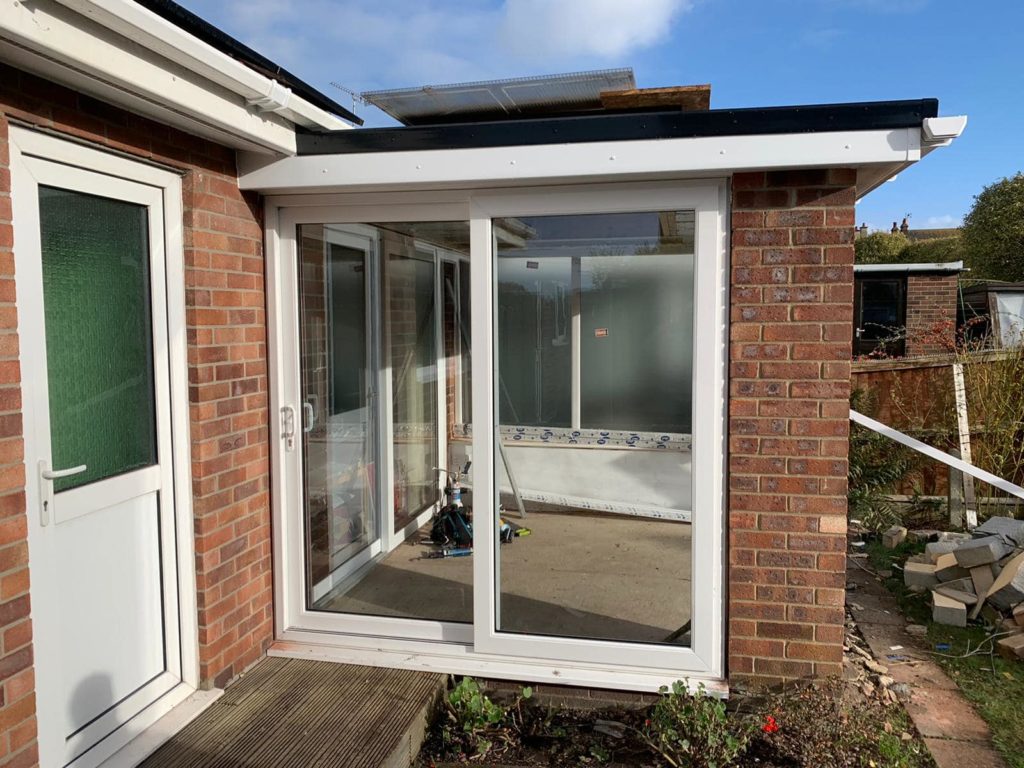 The benefits of UPVC patio doors include:
Safe and Secure – Having a large area of glass is no less secure. The glass we use is thermically toughened, which is stronger than laminated glass and incredibly hard to break. In addition, an internal glazing bead prevents the glass being removed from the outside, along with an anti-life security strip prevents the door from being lifted out of the frame. This high quality safety glass also provides additional peace of mind in the case of accidents in the home.
All patio doors are fitted with high quality multipoint locking systems.
Draught Resistant and Thermally Efficient – Our patio doors are fully insulated, with weather resistant seals, trickle ventilation and with a 20mm gap between the glass panes to retain heat. The glass used is energy efficient and argon filled.
Quality Guaranteed
Our installations are all guaranteed for 10 years, but we would expect your UPVC patio doors to last much longer!
Patio Door FAQs
What sizes of patio door are available?
Patio doors can be made up of multiple panels and can be customised to suit your home. All of our patio doors are made to measure to suit your property.
Is a patio door better than a bi-fold door?
Both doors have their own advantages and disadvantages. Bi-fold doors can open up the aperture fully, but generally have more frame. Patio doors are sliding glass doors that only open 50% of the aperture, but have less frame so let more light into the room. If you would like to discuss the differences in more detail, please get in touch with us.
What colours of patio door are available?
We can offer a number of colours for your UPVC patio doors and in some cases, it is possible to have white on the inside and another colour on the outside. Please contact us for more information.
How much do patio doors cost?
UPVC sliding patio door prices depend entirely on the size of aperture, number of panels and the colours and options chosen. If you would like a free, no obligation quotation please contact us.
Are sliding patio doors easy to break into?
Despite being mostly glass, sliding doors are incredibly secure both against attempted entry but also day to day life and exposure to all weathers. Our UPVC patio doors are fitted with a multi-point locking system and an anti-jacking system that stops the doors being lifted out of the frame.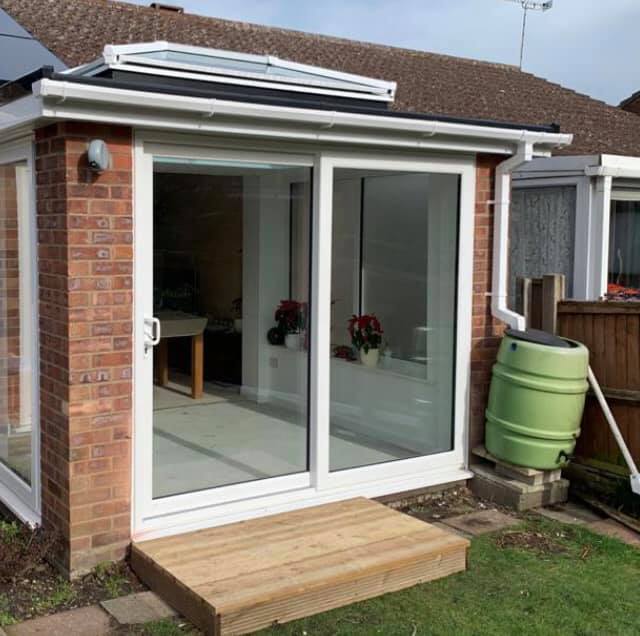 If you would like more information on the security of our windows and doors, please contact us.
What's the difference between patio doors, French doors and bi-fold doors?
Bifold doors fold back against themselves, in the form of a concertina. The panels are connected by hinges and slide in tracks set in the floor and ceiling.
Patio doors are two or more panels that slide sideways to the edge of the overall frame. Patio doors don't project outside the building, whereas a bifold door needs an area to accommodate the folded panels when open.
French doors act like standard doors, usually opening outwards. They are typically smaller than patio or bifold doors, therefore bringing less light into the room. However, French doors do offer convenient access to a garden of outside space when you don't want to install a lot of glazing.
No Obligation Quote
If you're considering UPVC patio doors for your property, please get in touch. We can answer any questions you have, or provide a free, no obligation quote.
Supply Only Patio Doors
If you require supply only patio doors, please visit our sister company Suffolk Trade Frames.