French doors can provide a sophisticated and beautiful look to your home. They are usually made from hardwood materials i.e., timber, but in recent years UPVC and aluminium has become more popular. We specialise in UPVC and are your local French door installers. We can help bring more light into your home and provide easy access to your garden.
Customised for You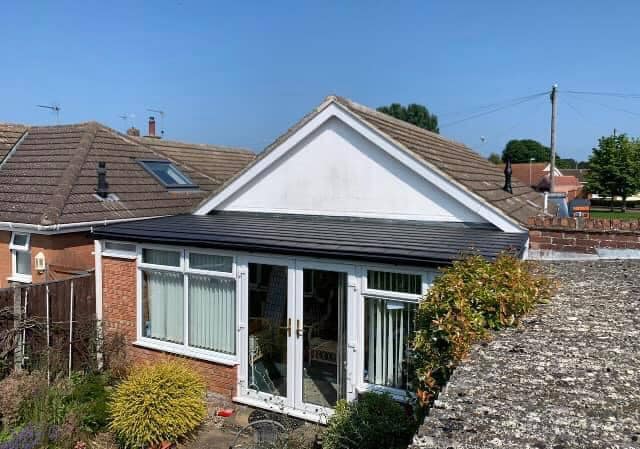 Our UPVC French doors come in a range of colour finishes, materials and openings that are all low maintenance and long lasting. You can also choose from a variety of handle and glazing options.
Brighter Rooms
French Doors open without a central column, giving you an unrestricted amount of natural light coming through the opening. French doors are a fantastic option for modest sized homes as they can really make a room feel more open and spacious
Energy Efficiency
All of our UPVC products are manufactured with thermal performance and energy efficiency in mind. The UPVC profile has an internal chamber to improve insulation, whilst all glass panels are double glazed to prevent the escape of heat.
Low Threshold Option
We can offer a low threshold to all of our UPVC French Doors. This means that the bottom of the door frame does not protrude very far from the floor of your home, giving you greater accessibility. This makes it easy for wheelchairs or push chairs to enter or exit, and also reduces the chance of tripping over the threshold.
Easy Maintenance
UPVC French Doors need minimal maintenance after installation. UPVC is completely weatherproof and protected by high quality weather seals so that you never have to worry about rusting or rotting. The only maintenance you will need to do is keep all moving components free of excess dust or dirt.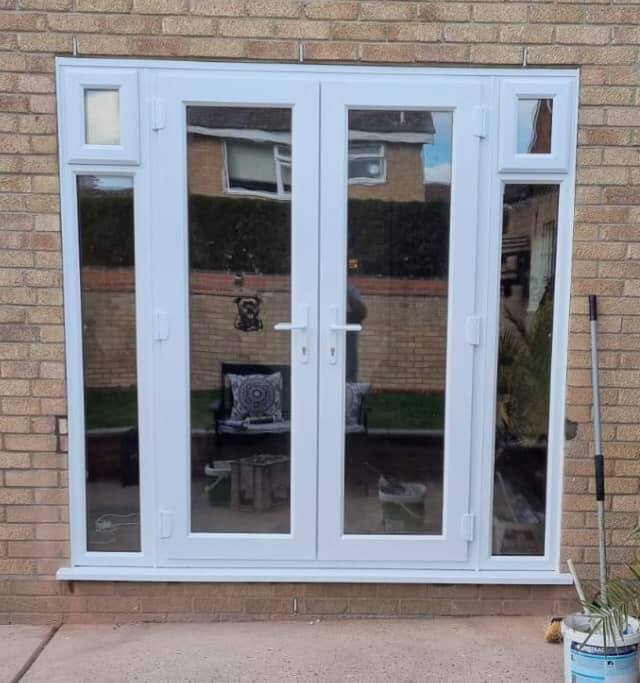 Secure as Standard
All our UPVC French Doors come with multi-point locking systems, ensuring that the door has minimal weak spots. Our locks are all supplied by Yale, the industry leader for locking systems and home security. The framework itself is supported by steel reinforcement, giving you total peace of mind.
Full Service
Our UPVC door installation service includes not only the installation of your new door but also the removal and disposal of your old door and frame. We always ensure that the installation work is completed correctly and cleaned for a first-class, tidy finish.
If you're considering French doors for your home, get in touch with us for a FREE no obligation quotation.
FAQs
What is the difference between a French door and a patio door?
French doors open outwards on a hinge, whilst patio doors slide sideways along a track. This gives French doors a more traditional look, while patio doors are more modern. Having said that, French doors are often called patio doors, so the terms are becoming interchangeable.
Are French doors or patio doors safer?
Modern French doors are generally more secure because they have multi-point locking systems and many manufacturers of French doors have passed the PAS024 security testing. Sliding doors can have weaker locking mechanisms that use a simple push up or down system for locking and unlocking.
Do French doors last a long time?
Like most windows or doors, French doors will need to be replaced from time to time. They usually need replacing after around 30 years, but the exact amount of time depends on the material they're manufactured from and how well they've been maintained.
If you just need French door replacement glass or French door replacement locks, we can help. Get in touch with us for a no obligation quotation.
How much does it cost to install a French door?
The cost of installing French doors depends on a number of things, including the size of aperture and the colours and options chosen. If you would like a quote for French doors, we will supply this for FREE with no obligation to order. Get in touch with us today.