If you're considering composite doors for the front or rear of your property, we can help. Choose your perfect door from a wide range of designs and colours to suit the style of your home.
What are composite doors?
GRP Composite doors are made of a selection of materials including a timber core, UPVC and internal insulation to name a few. Each material is chosen for its specific merits and pressed and glued together to make one of the strongest and most durable door types on the market.
Why choose a composite door?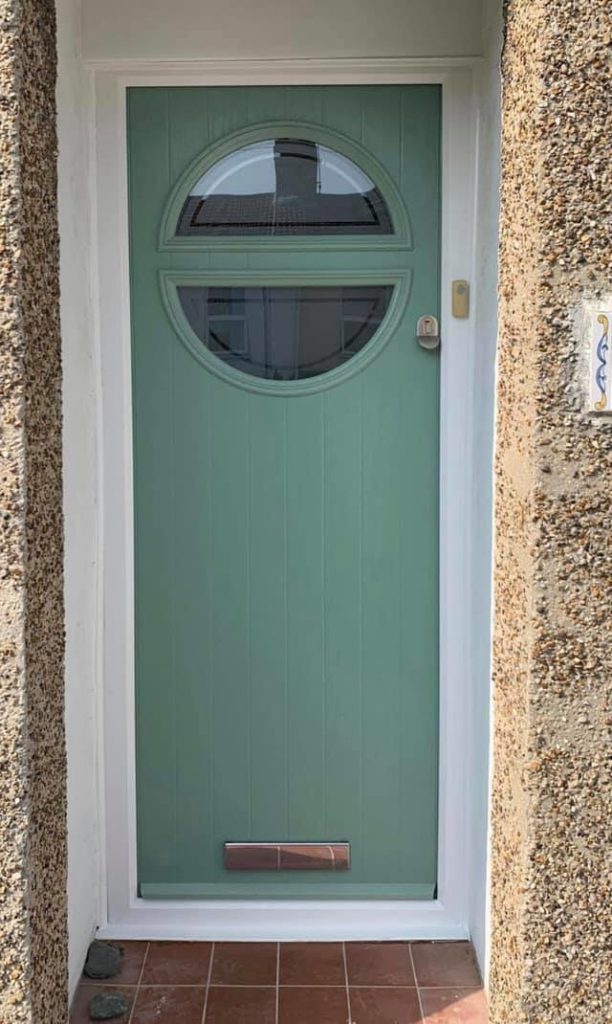 The main reasons for choosing composite for your front or back door are:
1. Security
Highly secure, composite doors can incorporate steel reinforcement and include the most secure Secured by Design locking systems, along with the option for keyless Smart Locks. Any glass fitted will be laminated, providing a further level of security.
2. Thermal Efficiency
Composite doors are usually 44-48mm thick, which is considerably thicker than 28mm UPVC doors. They are also built with insulating materials inside, keeping the heat in and cold air out. This increased level of energy efficiency helps to reduce your energy bills.
3. Individuality
There are a multitude of door styles, designs and colours including black and white to choose from. You can make your composite door design as individual as you are!
4. Kerb appeal
If you're thinking of selling your home, or just making some enhancements, a composite door is the perfect way to add a new look and make your home stand out.
5. Long-lasting
Composite doors have an average life span of 30 years and are less likely to warp, rot or fade. Our composite doors are all made in the UK from high quality materials.
6. Low Maintenance
Composite doors are easy to maintain and often only require a quick clean and oiling of hinges.
7. Value for Money
Due to being more energy efficient than the UPVC version, composite door prices work out to be comparatively cheaper over their life span. You are also more likely to need to replace a UPVC door, so it's worth investing in a composite one.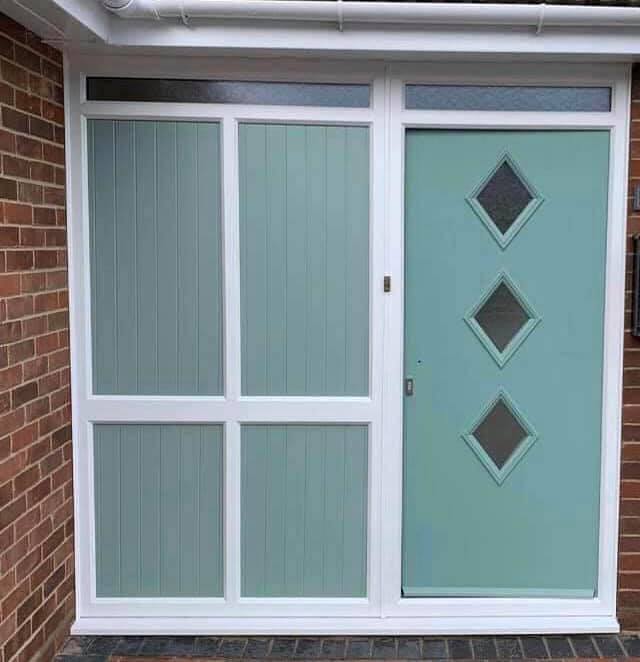 Composite Doors with Side Panels
If you'd like to increase the width of an entrance, or are replacing an old front or rear door, we can provide matching composite glazed panels. These side panels come in a variety of designs including full composite panel, full glass, or half and half. There are also several glass designs to choose from. This can be a lovely way to transform your hallways and incorporate additional light and space.
If you'd like more information on composite doors, or a no obligation quote, get in touch with us today.
FAQs
How much will my door cost?
The cost depends on the style of door and options chosen. Please contact us for a free, no obligation quotation.
What's the difference between a UPVC door and Composite door?
UPVC doors are made purely of plastic, whereas composite doors are manufactured from a number of different materials which are then compressed and glued together in high pressure conditions.
Composite doors are thicker that UPVC doors, being 44mm compared to 28mm. A quality composite door can be made from superior materials which makes them strong, secure, durable and weather resistant. Composite doors are also available in a variety of colours, whereas UPVC doors are usually white.
Why choose Carlton UPVC Home Improvements?
We have over 30 years' experience in the door and window industry and provide quality products and services. Our business is family run, offering a personal yet professional service. We always aim to give you a product that not only suits your budget, but also lives up to our high-quality standards.
We are also an Assured Certified installer. Assure is an official, UKAS-accredited Competent Persons Scheme authorised by the Ministry of Housing, Communities and Local Government (MHCLG) for the replacement of windows, roof windows, roof lights and doors in England and Wales.
Every project is automatically registered and backed by a 10-year warranty, providing further peace of mind and guaranteed satisfaction for our clients.
Please contact us for a free, no-obligation quotation for your property.
If you'd like more information on composite doors, or a no obligation quote, get in touch with us today. Need a supply only composite door? Speak to our sister company, Suffolk Trade Frames.
Available in 1000's of Colours